Patrick Rucinski and Ella Nusenbaum Canadian Champions
will perform on Dance Competition/Tournament for Amateurs.
Sunday August 30th 2009 Tickets: $10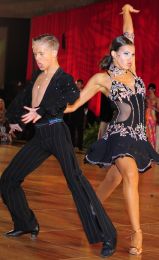 Patrick Rucinski and Ella Nusenbaum dance together for over 4 years. They started dancing together in February 2005. Patrick and Ella are both 16 years old and dance at the championship level in the Youth division. Patrick and Ella have competed in many notable competitions across Canada, the U.S, and Europe and have obtained several prominent results. The couple has represented Canada at 3 distinct World Championships; in Latvia, Ukraine, and Spain. They are World Junior Latin semi-finalists and World Junior Standard quarter-finalists. In November 2008, they came into 1st place in the Junior Championship Standard category and 2nd in the Latin category at the Ohio Star Ball, one of the most notable and largest competitions in the United States which is also televised as the "America's Ballroom Challenge". In March 2009, Patrick and Ella travelled to Columbus Ohio to compete at the Arnold Dancesport Classic competition. They placed 1st in both latin and standard at this exceedingly renowned competition which is promoted by the Governor Arnold Schwarzenegger. Virtually a month later, in April, the couple competed at the Canadian Amateur Closed Championships held in Montreal and placed 1st earning the title of Youth Canadian Standard Champions. Winning this year's Canadian Closed Championships entitles the couple to represent Canada at the World Championships held in Latvia, Riga this coming December. Patrick and Ella will continue to compete and represent Canada in competitions across the world.

Dances Cha-Cha: During the 1950's, the Cha Cha was made famous by many Latino bands. Cuban in origin, the Cha Cha rhythm is found in the much of today's popular music.
Samba: The Samba originated in Brazil. Unlike the other Latin dances that are stationary, it has a traveling action around the floor with lots of spins and controlled bounces.

Rumba: The Rumba is a Cuban dance and is often referred to as the "dance of love." Sultry and romantic, the music is a mixture of African and Latin rhythms. Paso-Doble:

The Paso Doble is a theatrical Spanish dance that characterizes the man as the matador and the lady as his cape. Based on Flamenco dancing, the character of the dance is arrogant and passionate.

Jive: The Jive is a very fast, acrobatic, and lively dance made popular during WWII by swing music. It is danced quite bouncy with very sharp foot kicks and "flicks".

RED ALERT Sundays, Singles Night
Dance Tournament for Amateurs
PAGING ALL Nurses, Firefighters, Police Officers, Paramedics, Doctors, Pilots
Fly Attenders and other uniform personnel to be a part of the newest party
in Mississauga!
Singles Dance
Come and party with GTA uniform personnel.
Badge courtesy to all emergency and medical personnal.

DJ playing top 40, Dance, Old School, Way Back Playback

FREE Dance Lessons at 9pm
All night long Special - Drinks $3.50
(with proper identification)
Free parking!

Free Dance Lessons- Every Sunday 9.00pm
Conducted by an Experience Teacher
Member of Canadian Dance Association

Patrick Rucinski and Ella Nusenbaum
Canadian Champions will perform on
Dance Competition/Tournament
for Amateurs
Semifinal - Sunday August 23rd
and Final Sunday August 30th 2009 (Tickets $10)
$1000 in Prices
More Info. Call Sunday Dance Instructors John and Beata
at 416 803 1717